We're Here to Help You
Treat Your Patients Struggling with Sleep Apnea or CPAP Intolerance
Sleep Center of Littleton believes everyone who suffers from sleep-related issues including apnea should receive high-quality care and be able to trust that they are receiving the best treatment possible. Many patients who are struggling with sleep issues and even some who are seeking an alternative to CPAP come directly to us seeking a solution. We're proud to say one of the biggest advantages of working with us is the fact that Dr. Froning focuses exclusively on sleep as a Qualified Dentist and one of only a thousand sleep dentists globally to have earned his Sleep Diplomate credentials appointed by the American Board of Dental Sleep Medicine.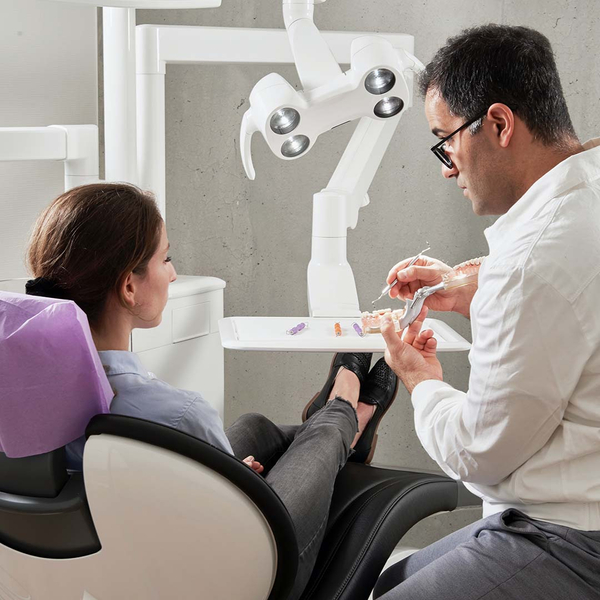 Our practice is committed to working closely with healthcare providers to ensure their sleep apnea patients receive the high-quality CPAP alternative treatment and follow-up they deserve.
Think of us as the Easy Button, ready to help your patients struggling with sleep-related issues (snoring/apnea/CPAP intolerance, etc.). For ultimate patient success, we pride ourselves on communication with our referring providers throughout the entire process. We also provide continued follow-up care to achieve the best possible outcomes for your patients.
Simply complete the online form, or feel free to call us directly at 720. 387.8145!
If it's more convenient, you may fax your patient information to 303.481.8619.
At Sleep Center of Littleton, we deeply value the trust you place in us when referring your patients to our team. Recognizing the profound impact of sleep disorders on overall health, our expertise in alternatives to CPAP is complemented by our drive to deliver compassionate care tailored to individual needs. We prioritize a holistic approach, encompassing everything from initial diagnosis to tailored treatment and long-term support.
Dr. Froning's specialization in sleep dentistry, combined with his esteemed credentials, uniquely positions us as a leading center in the realm of sleep disorder treatments. This expertise, combined with our state-of-the-art tools and methodologies, ensures that your patients get the most advanced sleep apnea care available.
Moreover, as healthcare evolves into an increasingly interdisciplinary field, we're enthusiastic about forging strong partnerships with our referring doctors. Together, let's usher in an era of collaborative healthcare, delivering integrated solutions for those grappling with sleep challenges.
What Our Patients Are Saying

Exceptional with the attention.
"Dr. Froning and the rest of the Sleep Center of Littleton team were exceptional with the attention and information I received during all of the appointments. I have experienced great benefits with the device and am getting better quality of sleep and decreased episodes of waking up at night."
- Gabriela Guzman

Ten out of ten stars!
"The people (Dr Froning, Alicia, Sarah, Lamar) are all outstanding! It is always a pleasure to see them or talk on the phone. I will HIGHLY recommend The Sleep Center to anyone thinking of going there. Ten out of ten stars!"
- Barb Loux

The team here was amazing.
"The team here was amazing, I'm so glad I got this device, Lamar was so helpful with everything and explained everything very well,I would definitely recommend them, this device saved my life."
- Jose Luna
Ready to get started? Schedule your complimentary consultation today.